Tematiche di Ricerca in
Geofisica integrata per la sismotettonica, la geotermia, la crosta profonda; geofisica ambientale, mineraria e per l'ingegneria civile; archeogeofisica
Collaboratori: Maurizio Fedi, Valeria Paoletti,
Mauro La Manna, Maurizio Milano, Giuseppe Langella, Davide Lo Re, Federico Cella, Yemane Equbamariam, Ramin Varfinezhad, Saeed Parnow
Questa linea di ricerca si propone di fornire risposte a una serie di problematiche di tipo geologico o geologico applicativo, sulla base della grande esperienza acquisita dal nostro gruppo sin dagli anni '90 nell'elaborazione dei dati geofisici, così come nell'esecuzione di indagini geofisiche in campo. È pertanto articolata su molti campi, come mostrato dalla produzione scientifica e dai progetti scientifici gestiti. L'analisi e l'interpretazione dei dati viene effettuata soprattutto mediante l'applicazione delle tecniche originali prodotte dal nostro gruppo di ricerca.
Geofisica applicata agli studi geotermici: valutazione del potenziale geotermico di un'area basata su dati idrologici e di temperatura; valutazione della profondità del basamento carbonatico (metodi gravimetrici e magnetometrici) e dell'isoterma di Curie per studi geotermici.
Caratterizzazione geofisica della crosta profonda: modellizzazione della crosta profonda (magnetometria/ gravimetria, rilievi da satellite e aerei, su scala continentale) (Fig. 1);
Geofisica applicata a studi sismotettonici: analisi integrata di dati sismologici, di gravità, di deformazione e geostrutturali per l'identificazione e la caratterizzazione di faglie attive in aree sismogenetiche;
Geofisica ambientale: indagini su discariche di rifiuti solidi e fluidi, caratterizzazione del percolato, ritrovamento fusti metallici, UXO (metodi magnetometrico, GPR, FDEM, EM, resistività);
Geofisica per l'ingegneria: indagini per e su opere di ingegneria civile (microgravimetria, metodi magnetometrici e geoelettrici, GPR, FDEM);
Geofisica mineraria: indagini su depositi minerari, localizzazione, caratterizzazione fisica e stima della massa totale dei depositi (microgravimetria, metodi magnetometrici e geoelettrici, GPR, FDEM);
Archeogeofisica: indagini su strutture archeologiche sepolte (metodi magnetometrici e geoelettrici, GPR, FDEM, gravità) e diagnostica di beni culturali esposti;
Geofisica per studi vulcanologici: rilievi aerei (magnetometrici, EM e raggi gamma) in aree vulcaniche; caratterizzazione delle caratteristiche strutturali delle aree vulcaniche;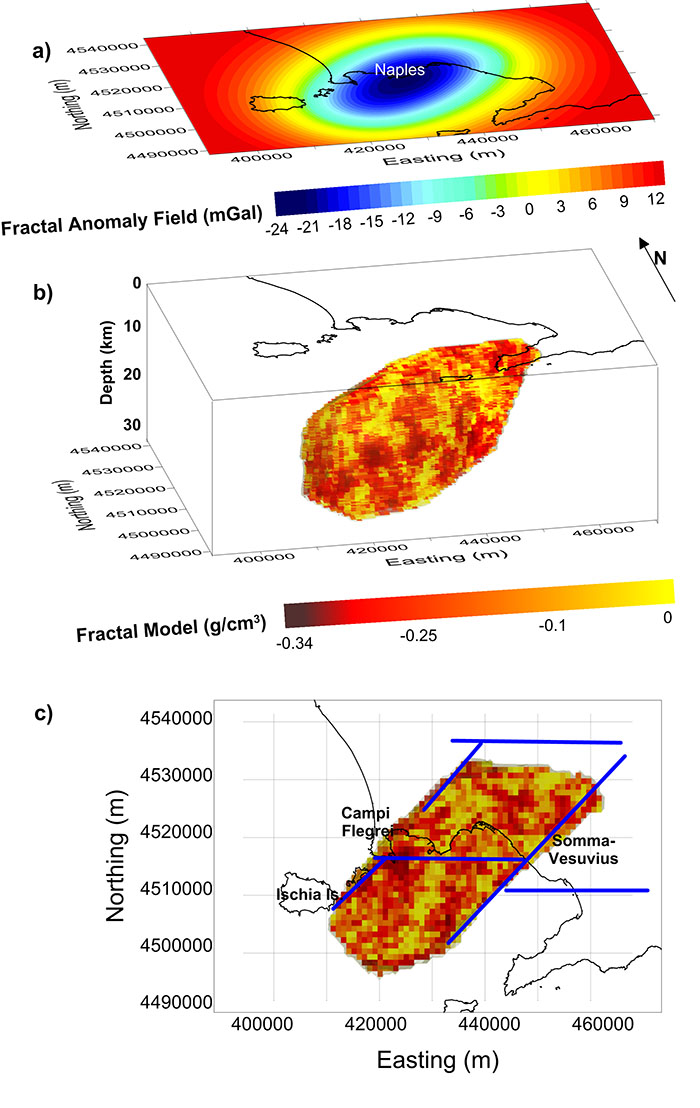 Fig. 1. Modello gravimetrico frattale del volume a bassa densità sottostante l'area vulcanica napoletana: (a) Dati gravimetrici sintetici generati dal modello frattale 3D mostrato in b) e c). In c) sono anche mostrati i lineamenti strutturali individuati da Florio et al. (1999). Figura da Fedi et al. (2018)
Progetto su:EXPLORING FOR HYDROCARBONS WITH GRAVITY AND MAGNETIC METHODS IN OFFSHORE EGYPT, tra il DISTAR ed Edison International S.p.A., 2017-2018.
- Istituto Nazionale di Oceanografia e di Geofisica Sperimentale (OGS), Trieste
- Istituto Nazionale di Geofisica e Vulcanologia (INGV), Sezione di Catania
- Osservatorio Vesuviano (OV), INGV Sezione di Napoli
- Università degli Studi della Calabria (UNICAL), Cosenza
- Università degli Studi Suor Orsola Benincasa, Napoli
- Università del Salento, Lecce
- Dipartimento di Matematica e Geoscienze, Università di Trieste
- Dipartimento di Ingegneria Civile, Ambientale e Architettura, Università di
Cagliari
- C.N.R., Sezione di Pisa
- C.N.R., IREA- Istituto per il Rilevamento Elettronico dell'Ambiente, Napoli
- C.N.R., IAMC- Istituto per l'Ambiente Marino Costiero, Napoli
- INNOVA – Scarl, Napoli
- Dipartimento di Studi Umanistici, Università Federico II, Napoli
- Dipartimento di Ingegneria Industriale, Università Federico II, Napoli
- Geological Survey of Austria (GSA), Vienna