Tematiche di Ricerca in
Geofisica di esplorazione: sviluppo di metodi tomografici e di imaging 3D di dati geofisici
Collaboratori:
Giovanni Florio,
Valeria Paoletti,
Mahmoud Abbas, Maurizio Milano, Andrea Vitale, Davide Lo Re, Ivano Pierri, Jamaledin Baniamerian, Federico Cella, Yemane Equbamariam, Ramin Varfinezhad, Saeed Parnow
Questo filone di ricerca si basa sull'esigenza di interpretare grandi dataset in tempi contenuti, di grande importanza per il mondo dell'industria petrolifera. Ciò può avvenire grazie ad algoritmi che operano in regime automatico o semiautomatico e/o affiancando la proposizione di algoritmi di inversione 3D a quella di rapidi metodi di imaging. Abbiamo iniziato questa ricerca negli anni '90 e la stiamo proseguendo attivamente, per la ricostruzione delle proprietà fisiche nel sottosuolo dei parametri di sorgente quali densità, suscettività magnetica e resistività elettrica. Il gruppo ha sviluppato algoritmi e software originali su tutti i temi elencati di sotto, anche nell'ambito di collaborazioni con l'Industria (ENI) o con istituzioni estere (ad esempio DTU, Danimarca).
Sviluppo di algoritmi originali e software:
Imaging di campi di potenziale: migrazione, DEXP e algoritmi di correlazione (Fig. 1);
Trasformata di wavelet continua e discreta e analisi multi-risoluzione applicata alla residua localizzazione di potenziali campi;
Analisi spettrale multidimensionale;
Metodi multiscala (Fig. 2) per la stima automatica dei parametri di sorgente dei campi di potenziale, del campo di deformazione e del campo EM a bassa frequenza;
Analisi degli edge di dati geofisici per studi strutturali;
Analisi frattale e multi-frattale di dati geofisici;
Metodi a grande scala di inversione 3D lineare e non lineare (vincolata) di dati di gravità, magnetici e resistività, quali: Inhomogeneous depth-weighting Inversion, Self-constrained Inversion e Focusing, Joint inversion of geophysical data, Algoritmi per determinare la depth-resolution (Depth Resolution Plot);
Imaging di dati CSEM;
Inversione di dati AEM time-domain.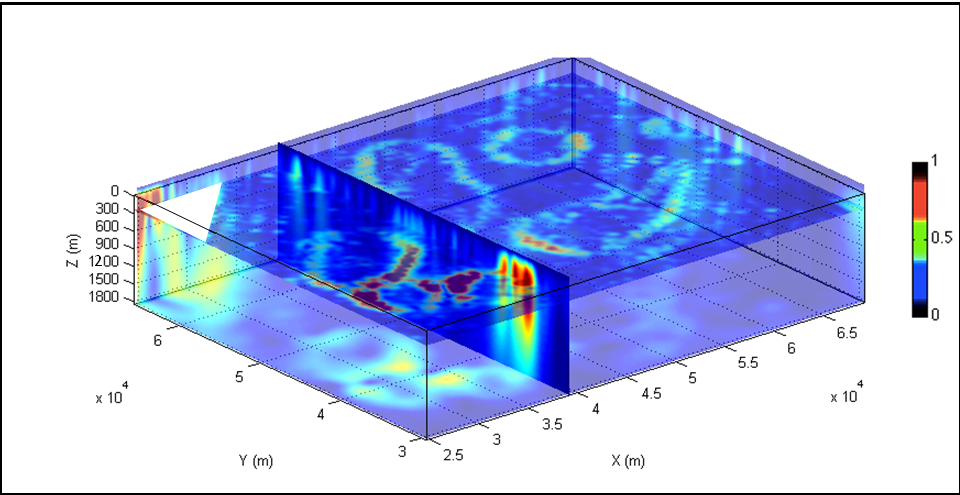 Progetto su:EXPLORING FOR HYDROCARBONS WITH GRAVITY AND MAGNETIC METHODS IN OFFSHORE EGYPT, tra il DISTAR ed Edison International S.p.A., 2017-2018.
- Istituto Nazionale di Geofisica e Vulcanologia (INGV), Sezione di Catania
- Istituto Nazionale di Geofisica e Vulcanologia (INGV), Sezione di Roma
- Università degli Studi della Calabria (UNICAL), Cosenza
- Università del Salento, Lecce
- C.N.R., IREA- Istituto per il Rilevamento Elettronico dell'Ambiente, Napoli
- ENI, San Donato Milanese, Milano
- Comenius University in Bratislava, Slovacchia
-University of the Witwatersrand, Johannesburg, Sud Africa
- South Valley University, Qena, Egitto
- Danish Technical University (DTU), Lyngby, Danimarca
- Geological Survey of Canada (GSC), Ottawa
- University of Tehran, Iran
- Getech, Leeds, UK
- National Geophysical Research Institute (NGRI), Hyderabad, India
- Aarhus University, Danimarca