Research topics in
Integrated geophysical studies for seismotectonics, geothermics, deep crust; environmental, mining and engineering geophysics; archeogeophysics
Group: Maurizio Fedi, Valeria Paoletti,
Mauro La Manna, Maurizio Milano, Giuseppe Langella, Davide Lo Re, Federico Cella, Yemane Equbamariam, Ramin Varfinezhad, Saeed Parnow
This research line is based on our 20 years expertise in geophysical prospection and data interpretation applied to different geological and applied geology studies, which are listed in more detail below. The techniques used for data analysis and interpretation are mainly those proposed and published by our research group. All these activities have a feedback in publications on several topics.
Geophysics applied to geothermic studies: evaluation of the geothermic potential of an area based on hydrological and temperature data; evaluation of the depth to the carbonate basement (gravimetric and magnetometric methods) and of the Curie isotherm for geothermal studies.
Geophysical characterization of the deep crust: deep crust modeling (magnetometric/gravity satellite and airborne surveys, at continental scale) (Fig. 1);
Geophysics applied to seismo-tectonics: integrated analysis of seismological, gravity, deformation and geo-structural data for identification and characterization of active faults in seismogenetic areas;
Environmental geophysics: surveys on iron deposits, landfill percolate, metallic drums, UXO (magnetometric method, GPR, FDEM, EM, resistivity);
Engineering geophysics: surveys for and on civil engineering works (microgravimetry, magnetometric and geoelectrical methods, GPR, FDEM);
Mining geophysics: surveys and modeling of mining deposits, their localization and physical characterization; total mass estimate of mining deposits;
Archaeogeophysics: investigations on buried archaeological structures and cultural heritage monuments and building (magnetometric and geoelectrical methods, GPR, FDEM, gravity);
Geophysics for volcanological studies: airborne (magnetometric, EM and gamma-ray) surveys in volcanic areas; characterization of the structural features of volcanic areas.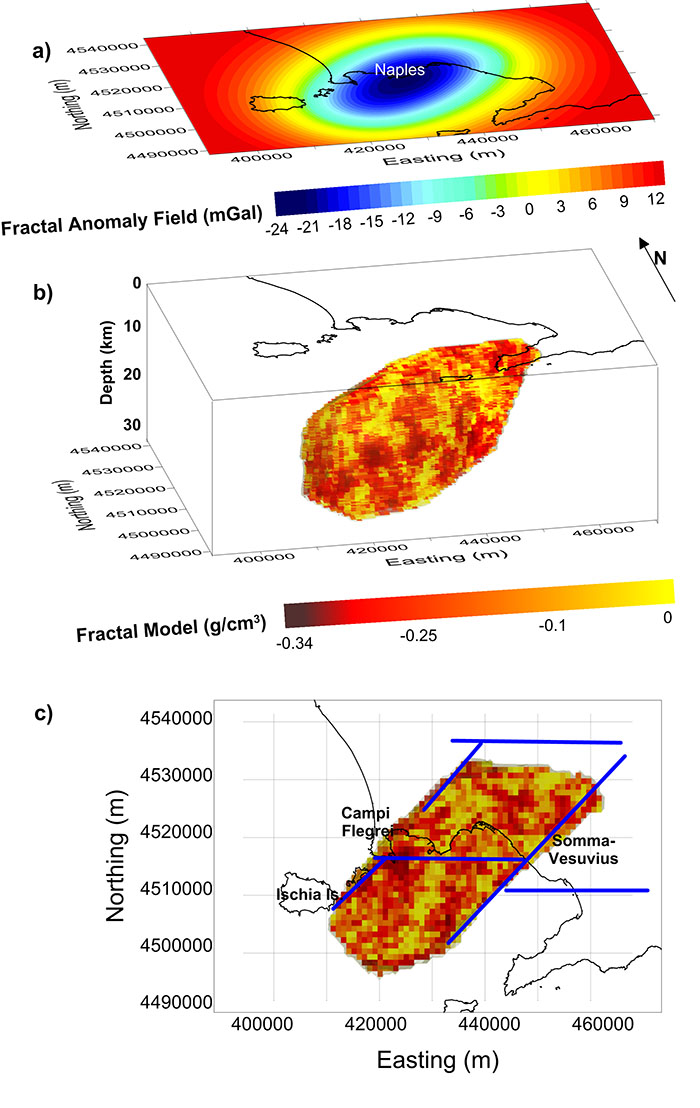 Fig. 1. Fractal gravity model of the low-density volume of the Neapolitan volcanic area: (a) Synthetic gravity field generated by the 3D fractal model shown in plots (b and c) (plan view). The structural lineaments (blue lines in plot c) are from Florio et al. (1999). Figure from Fedi et al. (2018).
SCIENTIFIC RESEARCH PROJECT ON:EXPLORING FOR HYDROCARBONS WITH GRAVITY AND MAGNETIC METHODS IN OFFSHORE EGYPT, between DISTAR and Edison International S.p.A., 2017-2018.
- Istituto Nazionale di Oceanografia e di Geofisica Sperimentale (OGS), Trieste
- Istituto Nazionale di Geofisica e Vulcanologia (INGV), Section of Catania
- Osservatorio Vesuviano (OV), INGV Section of Naples
- Università degli Studi della Calabria (UNICAL), Cosenza
- Università degli Studi Suor Orsola Benincasa, Naples
- Università del Salento, Lecce
- Dipartimento di Matematica e Geoscienze, Università di Trieste
- Dipartimento di Ingegneria Civile, Ambientale e Architettura, Università di
Cagliari
- C.N.R., Section of Pisa
- C.N.R., IREA- Istituto per il Rilevamento Elettronico dell'Ambiente, Naples
- C.N.R., IAMC- Istituto per l'Ambiente Marino Costiero, Naples
- INNOVA – Scarl, Naples
- Dipartimento di Studi Umanistici, Università Federico II, Naples
- Dipartimento di Ingegneria Industriale, Università Federico II, Naples
- Geological Survey of Austria (GSA), Vienna