Research Topics in
Exploration geophysics: development of tomographic and imaging methods for the 3D modelling of geophysical data
Group
:
Giovanni Florio,
Valeria Paoletti,
Mahmoud Abbas, Maurizio Milano, Andrea Vitale, Davide Lo Re, Ivano Pierri, Jamaledin Baniamerian, Federico Cella, Yemane Equbamariam, Ramin Varfinezhad, Saeed Parnow
This research is based on the need of interpreting large geophysical datasets in short time, which is a key issue for oil industry. This is made possible thanks to automatic or semi-automatic algorithms and/or by employing both 3D inversion algorithms and fast imaging methods. We started dealing with field in the 90s, and we are currently continuing this research actively with the aim of retrieving the underground distribution of source parameters such as density, magnetic susceptibility and electrical resistivity. Our group developed new algorithms and software regarding all research themes listed below, also in the frame of collaborations with industry (ENI) and other Universities (such as DTU, Denmark).
Development of original interpretation tools and software:
Imaging of potential fields: migration, DEXP and correlation algorithms (Fig. 1);
Continuous and discrete wavelet transform; multi-resolution analysis applied to the local residuation of potential fields;
Multidimensional spectral analysis;
Multiscale methods (Fig. 2)for automatic estimation of parameters of potential field,deformation field and low-frequency EM sources;
Edge analysis of geophysical data;
Fractal and multi-fractal analysis of geophysical data;
Large-scale methods of 3D linear and non-linear (constrained) inversion of gravity, magnetic and resistivity data, such as: Inhomogeneous Depth-weighting Inversion, Self-constrained Inversion and Focusing, joint inversion of geophysical data, tools (Depth Resolution Plot) for monitoring the retrievable depth-resolution in potential-field interpretation.
Imaging of CSEM data;
Inversion of AEM time-domain data.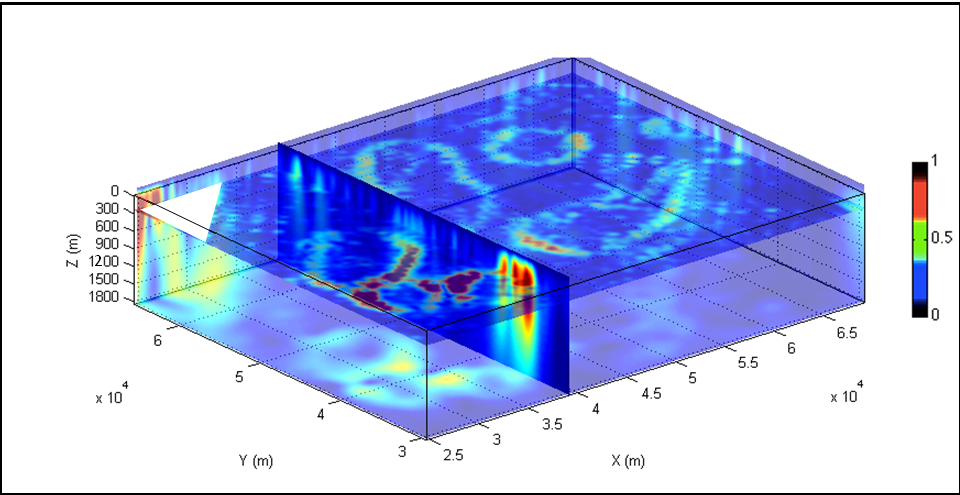 SCIENTIFIC RESEARCH PROJECT ON:EXPLORING FOR HYDROCARBONS WITH GRAVITY AND MAGNETIC METHODS IN OFFSHORE EGYPT, between DISTAR and Edison International S.p.A., 2017-2018.
- Istituto Nazionale di Geofisica e Vulcanologia (INGV), Section of Catania
- Istituto Nazionale di Geofisica e Vulcanologia (INGV), Section of Rome
- Università degli Studi della Calabria (UNICAL), Cosenza
- Università del Salento, Lecce
- C.N.R., IREA- Istituto per il Rilevamento Elettronico dell'Ambiente, Naples
- ENI, San Donato Milanese, Milan
- Comenius University in Bratislava, Slovakia
-University of the Witwatersrand, Johannesburg, South Africa
- South Valley University, Qena, Egypt
- Danish Technical University (DTU), Lyngby, Denmark
- Geological Survey of Canada (GSC), Ottawa
- University of Tehran, Iran
- Getech, Leeds, UK
- National Geophysical Research Institute (NGRI), Hyderabad, India
- Aarhus University, Denmark