Responsabile Scientifico (RADOR)
Archeometry (measurement of that is old) is the application of scientific disciplines, through laboratory analysis, to the study of archaeological and cultural heritage, including assets of historical, artistic, architectural interest.
An archaeometric characterization is useful to derive, from the archaeological contexts, relevant information mandatory for a more complete historical and technological investigation on studied materials, for diagnostic purposes and to assess their state of conservation, and thus planning a correct restoration procedure.
The archeometry laboroatory of the DiSTAR have equipments useful to investigate archaeometric features of different materials type (such as stone materials, ceramics, mortars, plasters, paintings, etc.).
All analyses are performed for research projects carried out within the Department of Earth Sciences, Environment and Resources (DiSTAR) and for private and public commission.
Pottery and bricks
Image analysis and modal analysis equipment:
Binocular microscope Leica L2, polarizing microscope Leica Laborlux 12 pol, Leica DFC 280 camera, Leica Qwin Computer with software for image and modal analysis.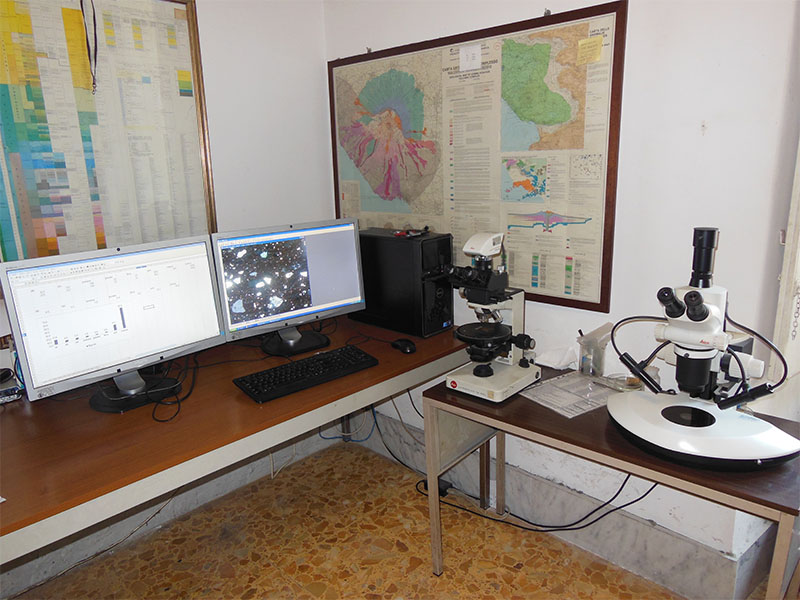 Computerized microscope analysis
Type of activities: Macroscopic analysis of ceramic samples and observation by means of binocular microscope.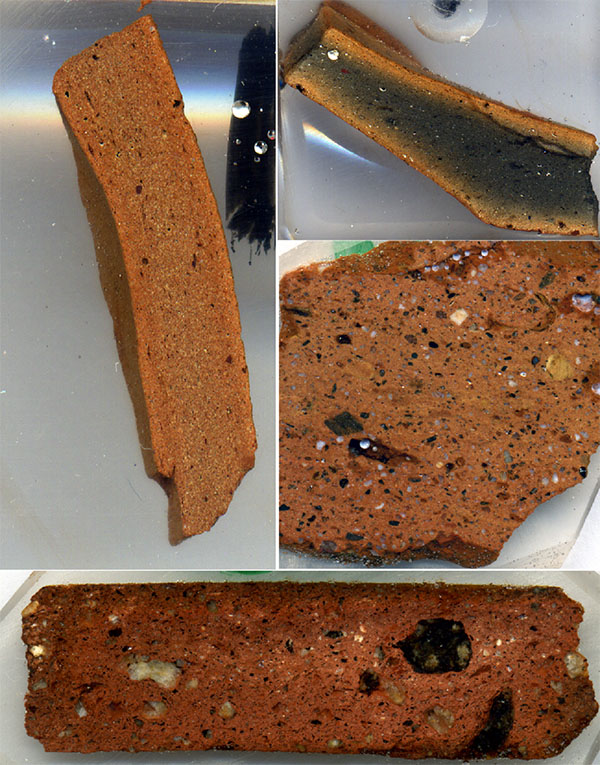 Examples of macroscopic bodies of archaeological ceramics
Petrographic analysis of thin sections to obtain textural characteristics of investigated samples and determine their composition in terms of the various constituents.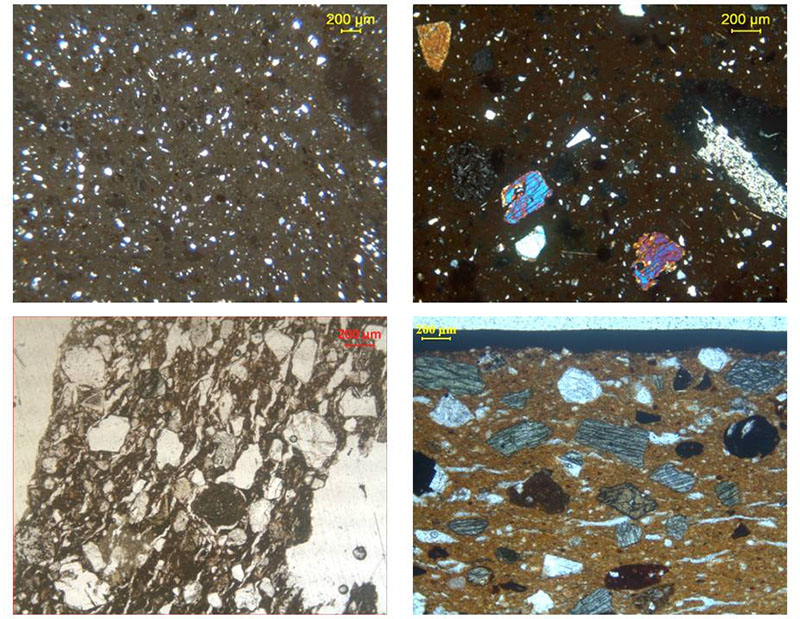 Thin sections photographs of archaeological ceramics under polarizing microscope
Morphometric measurements in thin section by means of digital image analysis and digital modal analysis to quantify the proportion of the various constituents in the archaeological samples (rocks, soils, ceramics, bricks, cement, etc.).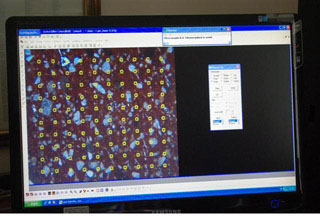 Computed aided modal analysis
Stratigraphic sections of mortar, plaster, paint layers, mosaics, etc..
Stratigraphic section of plaster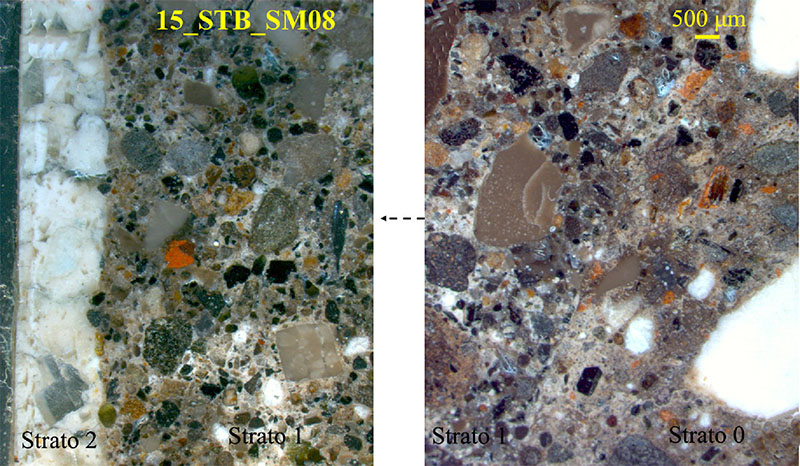 Stratigraphic section of mosaic on mortar
X-ray fluorescence spectroscopy
(XRF)

Equipment:
PANalytical Axios Xray fluorescence spectrometer, equipped with SuperQ PANalytical software
.
Activities performed:
Chemical analysis of major oxides and trace elements in rocks, soils, ceramics, bricks, cement, stucco, plasters.
DIFFRATTOMETRIA DI RAGGI X SU POLVERI (XRPD)
X-ray diffraction powder diffraction (XRPD) equipment:
- Philips PW3710/1730 theta/2theta double goniometer and dual detector
- PANalytical X'Pert Pro theta/theta with samples changer (45 positions), with fast RTMS X'Celerator detector.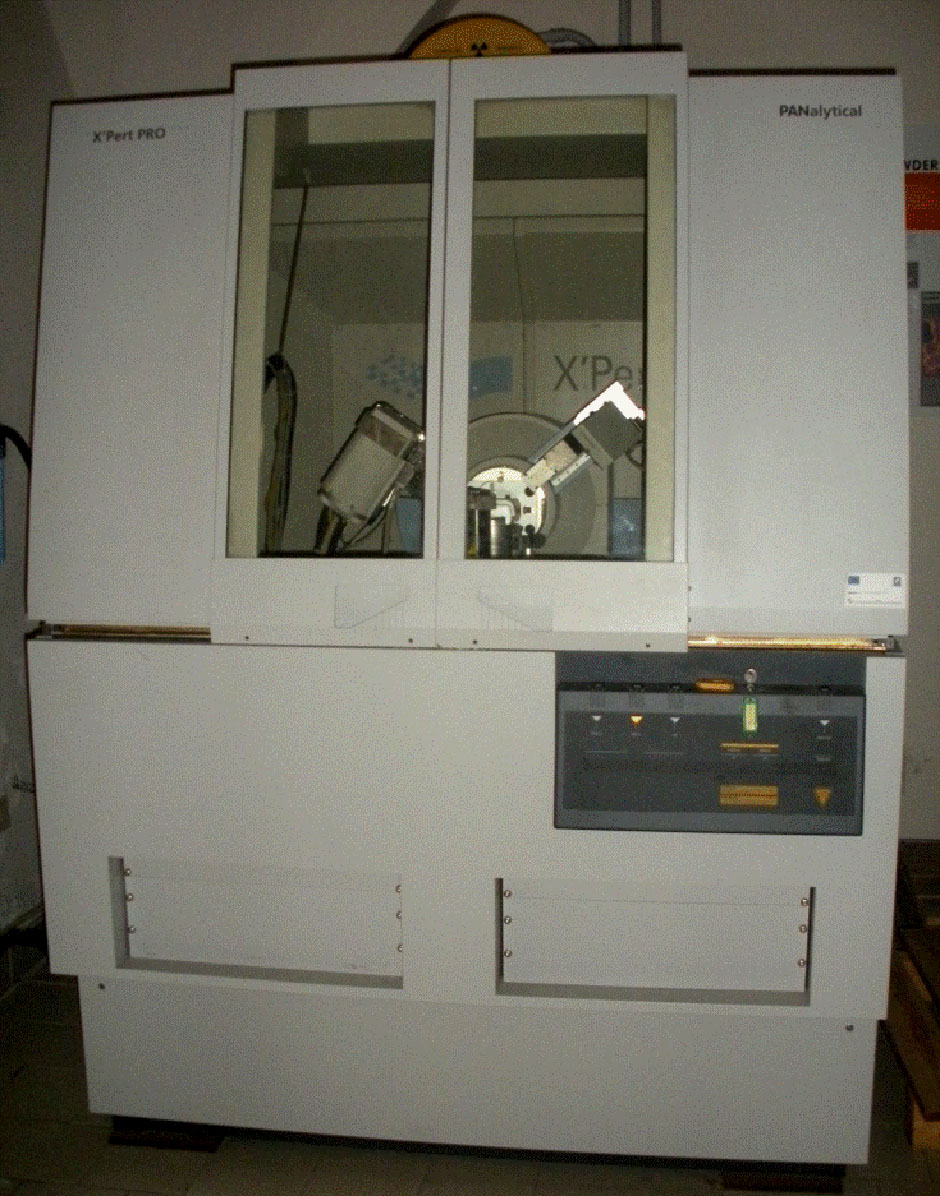 Activities performed:
Qualitative and quantitative mineralogical analysis of fired ceramic samples, raw clay materials.
XRPD spectrum of pottery with indication of mineral phases.
Esempio di diffrattogramma di un reperto ceramico in cui è possibile distinguere le fasi mineralogiche.
XRF spectrometry and XRD diffraction portable instrument for non-destructive investigations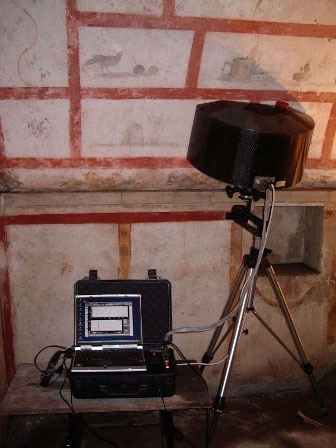 This instruments allows to perform in situ non-destructive investigations by providing qualitative information of the chemical and mineralogical composition of the material.
Activities performed: Non-destructive analysis of polycrystalline materials (frescoes, plasters, etc.), Identification of pigments on the surfaces of the frescoes, in situ characterization of mortars.
.

Measurements made on the walls of the Hypogeum of Caivano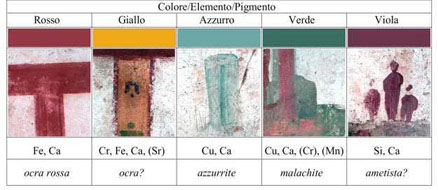 o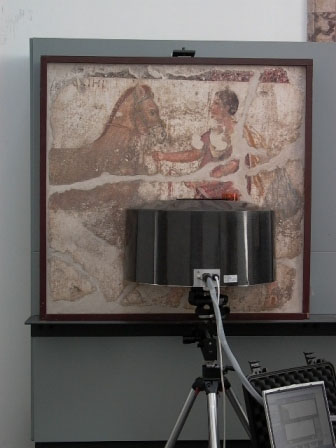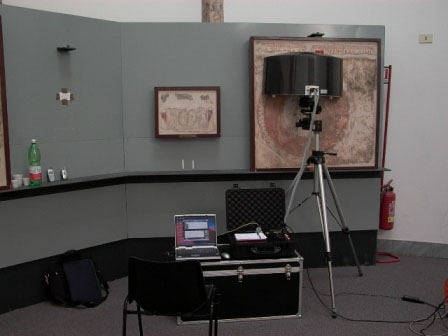 Measurements performed at National Archaeological Museum of Naples on Egnatia tombstones

Analyses in the S. Gennaro catacombs (Capodimonte)
Colorimetric measurements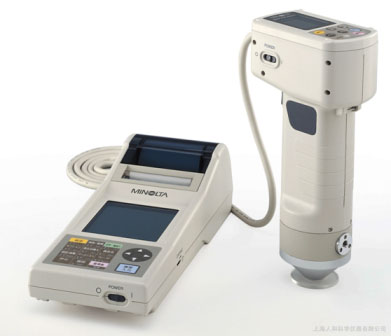 Equipment: Konica-Minolta colorimeter CR-400
These measurements allow to define unambiguously the chromatic and brightness characters of materials (link to photo). This technique is particularly useful in assessing the compatibility of protective intervention.
Activities performed::
Colorimetric measurements of frescoes, plaster, identification according XYZ color space, Yxy, L * a * b *, Hunter Lab, L * C * h, Munsell (illuminant C only), CMC (l: c), CIE1994, Lab99, LCh99, CIE2000, WI ASTM E313 (illuminant C only), YI ASTM D1925 (only illuminant C), YI ASTM E313 (only illuminant C). All activities are conducted for research projects and for performance of Distar third parties.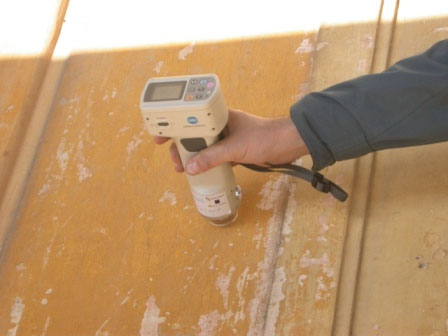 Colorimetric measurements performed during realization of Piano del Colore della città di Napoli
Scanning electron microscopy (SEM) and EDS
AEquipment: Scanning Electron Microscope Jeol JSM 5310 and EDS microanalysis Oxford INCAX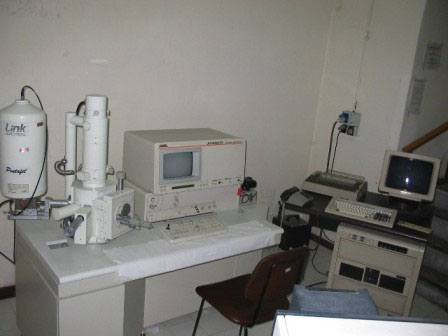 Scanning electron microscopy is an analytical technique that allows you to perform observations at the highest magnification (up to 100,000 times) of ceramic samples to study the structure and, from this, to be able to estimate the firing temperatures reached in ancient kilns.

SEM images of samples of archaeological ceramics
The microprobe analysis (EDS) allows to obtain quantitative and qualitative information on the chemical composition of the minerals that are present in ceramic mixture.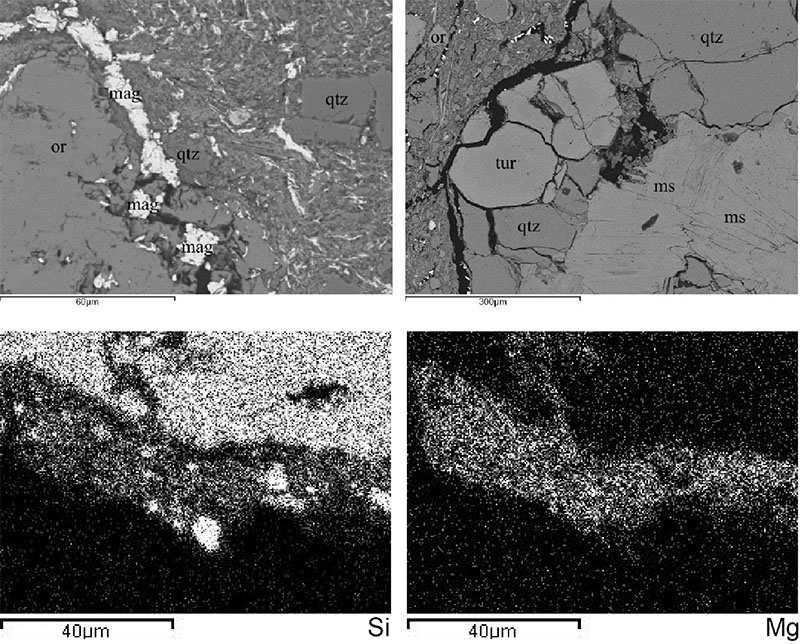 Thin section SEM images with mineral phases analyzed by EDS in archaeological ceramics and maps of the chemical elements in investigated sample
SAMPLE PREPARATION
Activities performed:
Cutting and precision cleaning of archaeological materials. Pulverization of materials for XRF analysis, XRPD, AAS and ICP MS. All activities are conducted for research projects of the Department of Earth Sciences, Environment and Resources and for public and private committment.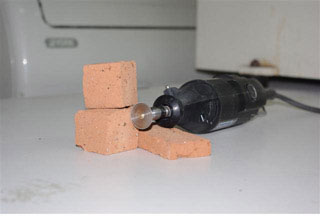 Multitool cutting DREMEL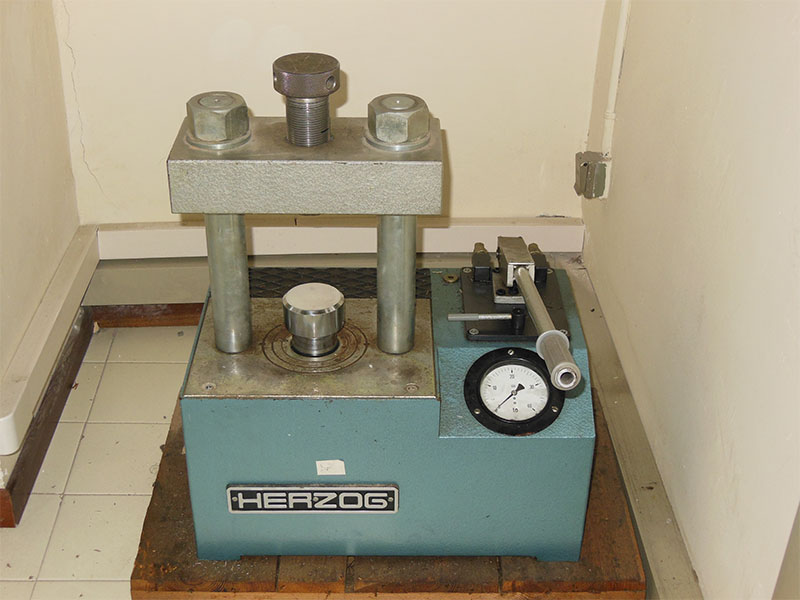 Herzog pellet producer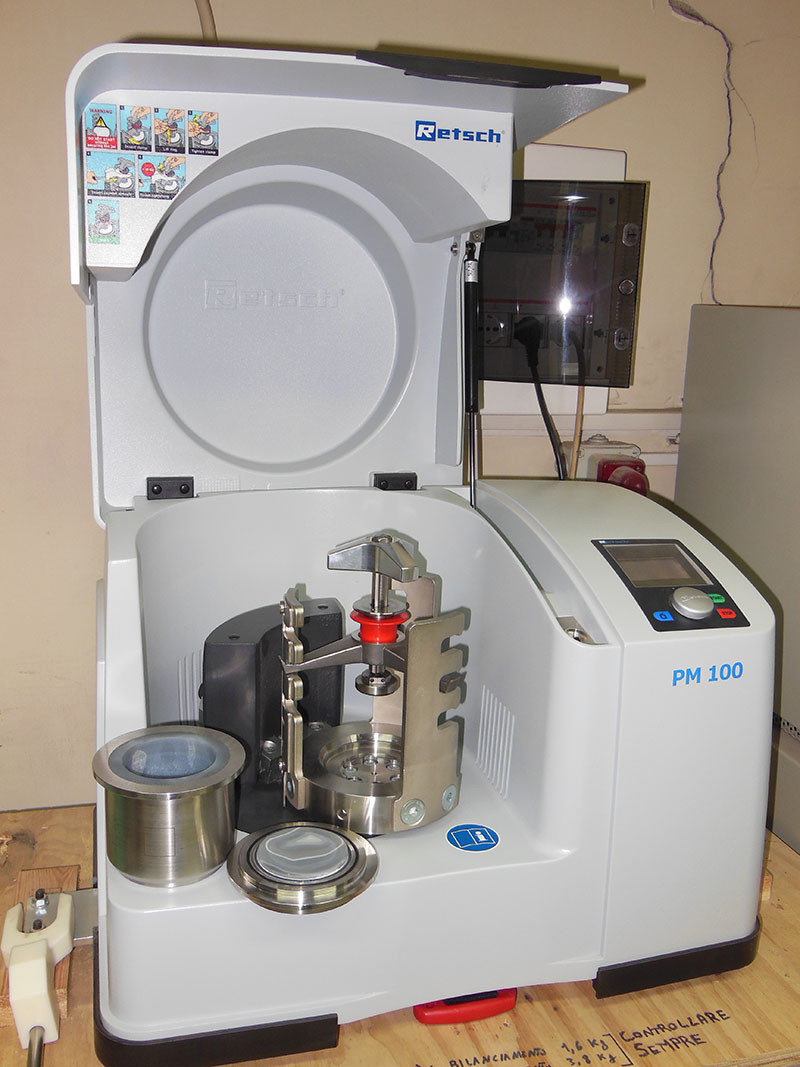 Retsch Planetary Ball Mill PM 100